Here in Virginia, we're at that weird time when the pool is open and there's still two weeks of school. It's very confusing. We've been running the schedule of get off the bus, eat a snack, throw suits on, stay at the pool til 5, come home shower, eat dinner and go to bed. Towels are always wet, etc, etc.
It's also the time of year when TV shows are over. This is normally a changing of the tides for me but since we got rid of cable in January, I haven't watched much TV. We flew through Dexter (all the seasons that were available via Netflix) and then did Season 1 of Hereos. Hereos was good but being used to watching HBO/Showtime shows -- I couldn't get past the 20+ episodes in a season. The thought of basically spending an entire day to watch a show --- that's weird. So, our TV habits are virtually non-existent at this point. Geoff's happy as he's always felt that TV is for a lower denominator of people. His preaching on this subject has led me to feel the same. Anything worth watching will eventually be on Netflix and why should we pay $100 a month to have immediate access to crap TV? With this mindset, I've spent some time at the library. Having lost my log-in info, I can't reserve books - I need to get this fixed. Taking kids is a total pain. You can't go downstairs and look up books without them being crazy loud/fighting. I have a 2 minute window to find what I want in new-release and move on. Today, I grabbed this....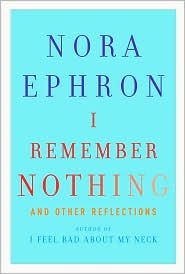 So far, it's witty and everything you'd expect from Nora. You've Got Mail is my all time favorite movie --- I enjoy how Nora Ephron thinks and writes.
Speaking of You've Got Mail..... with the start of summer, I've also realized that I've crept back to my old Starbucks habits in 2011. It's $3.40 for my drink. If I take kids, add $3.00 to that. $6.40 times 5 = $32 a week. Or, $128 a month. My espresso machine is back in action for making my drinks. I always (and I mean, ALWAYS) think of You've Got Mail when pushing the button for my 1.7 ounces of espresso. When Parker Posey is yelling to Tom Hanks, "Have you pushed it?" She should have realized the value of having someone that pushes your espresso machine button and not have lost him to Meg! -Shannon